How to Spy on My Cheating Wife
You can find out if your wife is cheating on you. However, hiring a private detective to spy on your husband or wife to find out the truth may cost hundreds or thousands of dollars and may or may not produce results. Therefore, it is not recommended by most people. Because of this, could you think of looking for another cheap way to find out if your husband or wife is unfaithful or not? That's why a growing number of people use cell monitoring programs spying on cheating wife to find out the truth.
Part 1: Signs that Your Wife May Be Cheating on You
Here are some scenarios:
Has new habits that are excessively punctual
New jargon and unknown expressions
Changes in her routine
Look for minutes alone
She behaves as if she had returned at 20
Gives you lingerie or sex toys
Sudden jealousy
Has new interests
Part 2: How to Spy on Cheating Wife Using mSpy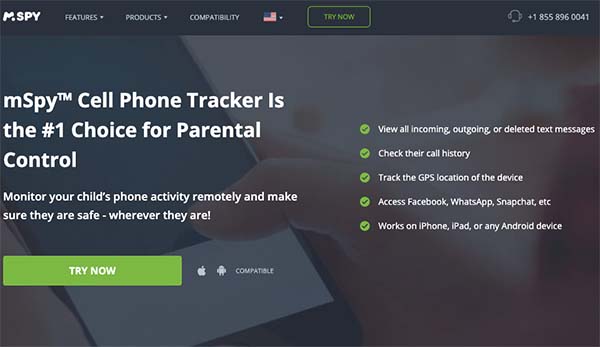 mSpy is the best spouse monitoring solution. As a tool for spying on cheating wife, it is best undoubtedly. With mSpy you can spy virtually everything on your cheating wife including sent and received emails, keystrokes, websites, screenshots, chat conversations, usernames, passwords, and much more. It is attuned to iPhone and Android devices. It's also well-matched with Sony, Huawei, Google Nexus, Lenovo, LG Samsung, and HTC etc.
How to Spy on My Cheating Wife's iPhone Using mSpy
GPS Tracking: Does my wife storm out on me most of the time? Trace with mSpy to discover her whereabouts. What does she tend to go at night so lately? With whom is she getting together? How to spy on my wife? All the answers you will get through this tool very soon.
Track her messages: If your cheating wife is clever she would have removed all causing suspicion messages from her iPhone. But it is mSpy via which you are able to see a complete log of all messages – be it sent, received, or deleted. So she is not able to be hidden from anything.
Multimedia Access: Discover every kind of image or video what she has sent, received, or deleted from her iPhone. Even you'll know if she is evolved in a sexual relation.
Call logs: You can track the call information details of your wife's iPhone. For how often, for how long she is talking to someone and every related issue you will know exactly.
Contact details: You can easily find out examining calls and messages if there is a guy who keeps popping up. You will get every detail of him.
Block him: If you could perceive that the issue is not so big yet and you really do not want to break up with your beloved wife, there are steps making sure that she never contact with him. You have the authority blocking him entirely from the iPhone device. He can't able to send any single text, make any single call ever. Subsequently, he will give up playing the game.
How to Spy on My Cheating Wife's Android Phone Using mSpy
Step 1: At first, go through its official webpage where you will have information details for making an account. Following order, you can create an account on your Android Phone. Add the phone number and accessory information as suggested.
Step 2: As your wife is using an Android device, you need to install the mSpy app physically on her device for collecting statistics.
Step 3: You are able to access a dashboard that recommends a variety of different data metrics gotten from your wife's Android phone. Here you can:
Examine call history of every contact number, messages, call durations, and calls more than one time, etc.
Received, Missed, Rejected calls etc.
You can also do additionally:
Browse Contacts
View Calendar
Read WhatsApp messages
Read SMS messages
Check GPS Location
View Photos on Her Phone
Check Installed Apps
More Features of mSpy Android Spy Solution:
Communication Data: Instant messaging services such as Facebook Messenger, WhatsApp and Skype conversations can be monitored using mSpy.
Location Tracking: You will know exactly where your spouse is with the GPS location displayed on Google Maps.
Real-time Screenshots: Monitor the target device remotely without time delay. Specify interval and target device to record the screenshots.
Key logger: This tool can be accessed on all iPhone and Android devices.
Track Call Logs: You can know the details of calls including the time, date, and duration of the call and with whom your son, partner or employee speaks.
SMS commands: You can delete text messages remotely or block some activities at a remote location.
Record surround: You can start a secret audio recording with your mobile phone to hear the environment where your spouse is from the Live Control Panel.
Read Contacts and Notes: All calendar notes, contacts and notes can be monitored by obtaining all the details stored on the mobile phone.
Photographs and Videos: All photos and videos taken with your spouse's mobile phone will be recorded for you to review.
Control Panel: You can see all activities of the monitored mobile through the control panel, which can be operated from anywhere, including mobile phone, laptop, PC or iPad.
Comments