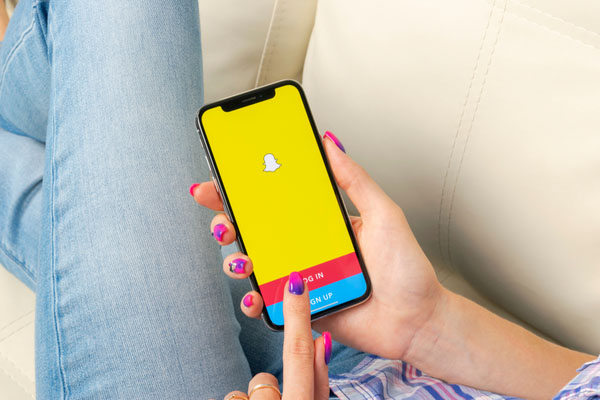 Can I Log Into Someone's Snapchat Without Them Knowing About It?
Snapchat is a popular social media application that allows its users to share videos and photos with friends and other people. Over the years, it's become a hub for people to connect using short-length videos and messages.
A lot happens on Snapchat these days, and you might want to know how to log into someone's Snapchat account to get information on their activities.
It might be for security concerns or based on suspicious operations, pushing you to seek ways online on how to see someone's Snapchat without them knowing.
However, bear in mind that it could be a challenging process, and Snapchat's security would quickly inform the account owner of a detected breach.
How do you get past all that security? We'll show you all you need to know about how to log into someone's Snapchat without logging them out further down.
Difficulties You Might Face While Spying on Someone's Snapchat
You must understand that Snapchat is a security-centric social media, and as such, you'd have a hard time trying to spy into someone's Snapchat account on your own. Below are vital difficulties you might have to face while trying to spy on a Snapchat account:
Layered Password System
For starters, it would be challenging to crack someone's Snapchat password, as the platform encourages its users to create an 8-digit long password with a mix of numbers and alphabets. Also, Snapchat discourages personal info in passwords. It means you should learn how to hack into someone's Snapchat without their password, as you're less likely to figure out the code using the person's birthday or phone number.
Two-Factor Authentication
Furthermore, the platform features a 2FA (Two-Factor Authentication) system to verify the users' login on their Snapchat account. It means that there's a high chance that the target gets alerted once you begin to spy on their Snapchat account.
A spy tool may help in such a case, but only the paid ones know how to log in to Snapchat without a verification code.
Disappearing Messages
Within the Snapchat account, the user can send disappearing messages. These Snapchat texts would disappear 10 seconds after they got sent. This feature makes it very difficult to spy on what someone's sending or receiving by checking their phones.
The messages would have been deleted, even if you know how to look at someone's Snapchat without them knowing.
Numerous Privacy Settings
There are several privacy settings on Snapchat that the user can turn on at any time. These functions allow the person to determine details such as contacts who can view their stories, Snaps, and location. You could get locked out once the target turns on the privacy features on their Snapchat account.
Snapchat "Report" Feature
The target could report to Snapchat of any suspicious activity on their account. The move might be bad news, especially when you're looking to spy on them with another Snapchat profile. Snapchat would immediately look into the situation and shut you out of the person's account.
Snapchat claims to protect its user privacy, which might hinder whatever monitoring plans you have for a particular account. Trying to figure out a way to spy on someone's Snapchat can be tedious, and you might need the help of dedicated spy services at some point.
How to Log Into Someone's Snapchat Without Logging Them Out With mSpy?
Spying on someone's Snapchat account has a higher success chance if you don't log the person out after you've logged in. However, it would be best to have specialized spy software such as mSpy to ensure that happens.
Snapchat sells itself as the perfect social media platform to share 'secret messages.' It means that the person's sent and received messages would be long gone once you log them out of their account.
mSpy is a suitable spy application for this situation, as it allows you to see someone's Snapchat messages even when they've disappeared. The app would also show the contact information on the messages' senders and recipients.
More than that, the spy tool dives deeper into the person's Snapchat account, trawling multimedia files they've sent and received. mSpy is perfect if you're learning how to see who someone is snapping. You would also view timestamps to know when each message left or arrived.
It's best to choose a spy service that allows you to view someone's Snapchat contacts, as mSpy does. Such a feature is essential since seeing the person's contact list will enable you to understand better the chats they have in their account.
How to Get Into Someone's Snapchat Without Them Knowing in 3 Easy Steps?
mSpy dramatically reduces your chances of getting detected as you figure out how to log into someone's Snapchat without them knowing. If you would like to get into a Snapchat account, leaving the owner oblivious of it, below are 3 steps you'd need to take:
Step 1. Create an Account on mSpy
You'd need to create an account on mSpy to get started with the service. Visit the official mSpy website and tap on the "Try Now" option. From there, you need to create your account by providing a valid email.
Step 2. Choose Your Plan
When you've successfully created your mSpy account, you can proceed to pick out a subscription plan that suits your needs. Thankfully, the service offers various packages at different price points, so finding the right one for you won't be challenging.
Once you select a plan, the website takes you to the payment processor page to complete the purchase. You'd get a confirmation email shortly after successful payment. The email would also contain a complete guide on how you'd install and set up mSpy on the target device to begin monitoring a Snapchat account.
Step 3. Start Monitoring
Upon successful installation and setup, you can begin to monitor a person's Snapchat profile immediately. mSpy would provide you with a custom Control Panel from where you get to see all Snapchat conversations and multimedia neatly arranged and displayed.
Another exciting feature you'd get on your mSpy account is remote access. It means that you can log into your Control Panel and spy on new Snapchat messages from anywhere using a web browser.
Final Thoughts
Spying on someone's Snapchat is quite possible, even if it's slightly tricky. You'd only need to have the right tools and guides. With an article such as this one, you would be making far fewer mistakes as you learn how to spy on someone's Snapchat without them knowing.
There are indeed real-world cases where you might want to spy on someone's Snapchat account without their knowledge. For instance, you could be a parent with teen kids who are always on Snapchat with "friends."
It wouldn't hurt if you spied on their Snapchat conversations to ensure their safety and keep them from falling prey to online predators.
Can you log into someone's Snapchat without them knowing? It comes down to using the proper spy application. mSpy is a solid spy tool, and you can get started with it using the steps mentioned above.
Comments